About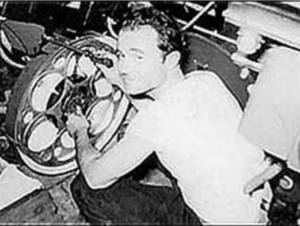 In 1939, our family patriarch Joseph Kelly entered into the theatre industry as a projectionist at the Coney Island Theatre in Brooklyn, NY. After enlisting in theU.S. Navy in 1942, he became the projectionist for his fellow Navy troops at the Brooklyn Navy Yard base throughout World War II. Following the end of the war, Joe began working with his uncle in his projection repair business.
Opportunities soon found him, first as a job working as a sound engineer for ABC television and later on as the head of the projection and sound department at Skouras Theatres. Skouras was later acquired by the United Artists Theatre Circuit, allowing Joe to be promoted to the vice president of engineering. During that time, Joe and a partner went on to create Kelmar Systems; however, the added responsibilities of his United Artists position led Joe to give up his share in Kelmar.
In the early 1970s, his sons, John, Tom and Jim joined Joe at United Artists Theatres in various capacities. All Cinema was founded in 1980 to handle the manufacturing overflow as a result of United Artists' aggressive theatre expansion program and provide aisle lighting installation services. In 1986, Jim and Tom left United Artists to run All Cinema Sales and Services full time and were later joined by Joe in 1996.
With over 30 years of theatre experience, our work scope has evolved in diversity consisting of electrical services, projection and sound installation, aisle lighting installation as well as wall and floor carpet installations to better serve our customers needs.
All Cinema Sales and Services has been conducting business to the motion picture theatre industry since 1980. We are a third generation family run business. At All Cinema Sales and Services, we base our goals on quality work and customer satisfaction by understanding that no two customers are the same. We have become a leader in providing a full range of reliable low voltage lighting & projection/sound installation services through out the United States and Abroad.
Join our growing list of satisfied customers by calling or emailing us today!
Contact All Cinema Sales & Services to book your next project or for more info:
Call 1-800-628-5788 or email us at [email protected]
Over 30 years experience in the lighting industry!
Factory trained installation experts